AN EVER-EVOLVING HISTORY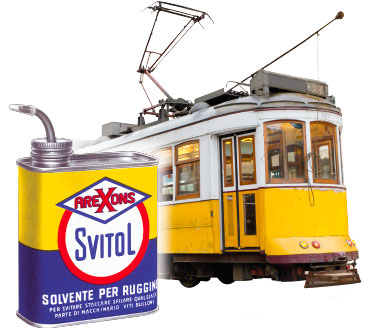 The world of Svitol Multi-purpose Lubricant is constantly evolving.
More than 80 years have passed since Arexons launched Svitol on the market: the rust solvent oil lubricant, specifically designed for the maintenance of Milan's trams.
This heavy-duty application made it possible for the Svitol Multi-purpose Lubricant to quickly become a valuable aid for those who get their hands dirty at work.
Since then, thanks to its outstanding qualities, Svitol's fields of application have grown in number and it has gradually become a must-have also for the maintenance of industrial plants, in the domestic sector, in the DIY sector and in car care.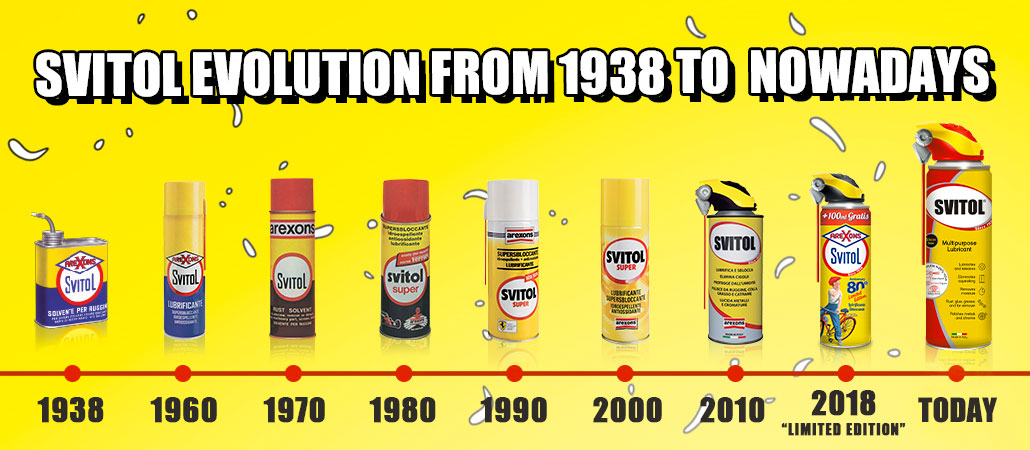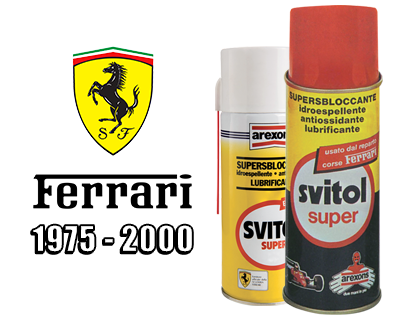 The performance of this product in the automotive sector was further strengthened by a prestigious partnership with the world's most iconic car manufacturer: Ferrari.
And so in the 1980s the famous prancing horse was also featured on Svitol's spray cans!
The product is still evolving, taking advantage of all the improvements offered by technology in order to adapt to the different characteristics of the new materials on which Svitol Multi-purpose Lubricant can be applied.
THE SVITOL LINES
Today, the company's continuing commitment to Research & Development has led to a comprehensive Svitol range that meets any requirement, constantly ensuring high quality and ease of use! Three different lines, each with its own features, reflect the FUN-ctional spirit of the Svitol brand: a brand that is close to its customers and meets everyone's needs in the easiest possible way!
Svitol Multi-purpose Lubricant is a truly universal product, ideal for a variety of applications, at work or at home, in workshops or in the garden, or for sports and hobbies. It is also available with the innovative smart cap dispenser for a broader range of applications.

The Specialties line, designed for DIY use, includes six products, each one with a specific formula for targeted applications.

The Professional line, designed for professional use, includes specific products for the care and maintenance of high-performance machinery.
COMMUNICATION
Svitol Multi-purpose Lubricant has always been at the cutting edge of communication.
Starting with its very first advertising posters, which were true works of art by prominent illustrators, followed by major collaborations.
In addition to the above-mentioned partnership with Ferrari, in the 1980s Svitol also gained fame for its TV commercials featuring the comedy duo Zuzzurro and Gaspare, an unforgettable and timeless experience.
Over the years, Svitol's image was renewed several times to always keep up with the times. In 2018, this approach also led to the launch of a special edition to celebrate the brand's 80th anniversary: three items with a vintage charm that everyone appreciated, especially loyal customers.
The desire to renew itself, constantly looking to the future, is clearly visible in its latest restyling: new packaging that promotes improved performance and shows its different uses more clearly.
Finally, the latest addition, #Teamsvitol, which reflects a passion for the two-wheeler world: after partnering with bike trial champion Vittorio Brumotti for three years, this year we are proudly supporting Paralympic athlete Andrea Pusateri as well.
Because a brand is not just about products but also about challenges and emotions.
Arexons is a company that has always been attentive to its products and their achievements.
Our production lines are designed to maintain high attention to sustainability and ecology, two important commitments to create innovation thinking of tomorrow.