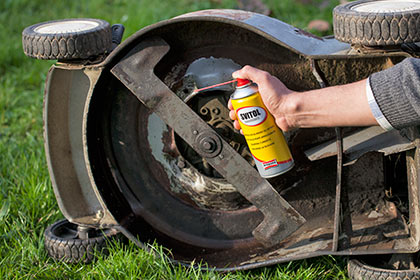 After every use and at the end of summer, Svitol helps you clean and protect the blades of lawnmowers and garden strippers.
With its cleaning action, Svitol removes even the most resilient dirt, like that which forms around drips of resin.
Its lubricating action reduces the friction of all revolving parts, while its anticorrosive action protects blades, ferrous parts and the entire frame from moisture and corrosion.
Finally, spray Svitol Lubricant before use to considerably reduce the grass blade pieces which stick to the blades and the frame and make cleaning much easier and quicker.
For maintenance of lawnmowers, garden strippers and other garden equipment, Svitol is always handy!